ELLE MAGAZINE WAS FOLLOWING JENNYANG DURING THE OPENING POP UP SHOP AT K11 MALL IN SHANGHAI
LIFE NEEDS COLORS, DREAMS NEED TO BE PRACTICED – JENNYANG POP-UP STORE LANDING K11 MALL
In Shanghai at the end of February, with continuous drizzle and chilly spring, the branches in the streets and alleys sprout and are full of vitality.
On the afternoon of February 28, the jennyang Shanghai K11 flash shop on the second floor of Shanghai K11 shopping Art Center opened. It was a delicate and warm ceremony that brought people different splendor.
JY flash shop became the most popular punch in place in Shanghai, and many KOL dressed up to attend. The guests gathered at the scene, took a group photo and had a good talk. Among them, there are many heavyweight guests, including Paul Burke, former CEO of laofoye department store, Lu Zhongping, artist, Stella Yan, CEO of Wanning China, Richard Wang, CEO of UPP, Henri Joli, senior fashion expert of France, etc
After a brief welcome speech, the event officially began.
Jenny, founder of « Queen of high heels » brand jennyang, talks about the brand development history and three years' achievements.
Jennyang is called « the high-heeled shoes with thinking, attitude and ability to run » by elites. In the past few months, the development momentum has been rapid, especially in Shanghai, where the 672 studio of Changle Road was set up first, and then the K11 flash shop was opened. A cultural street, a trend landmark, site selection and fashion.
When it comes to the origin of brand creation, Jenny sums it up as « inspiration + empowerment ». The founding of jennyang is not only a temporary passion, but also an eternal beginning.
First of all, based on herself, Jenny wants to make a pair of comfortable, beautiful and versatile ol high-heeled shoes to provide elegant and practical « winning weapon » for elite women.
Secondly, in the current market, many of the founders of shoes are men. Shoes are just a kind of commodity, but only women can understand women, and only from the perspective of women can we develop high-heeled shoes with real « Empathy ».
Finally, empowerment. Jennyang is not only a pair of high heels. As a brand carrier, it carries the spiritual meaning and enables women to draw strength from it.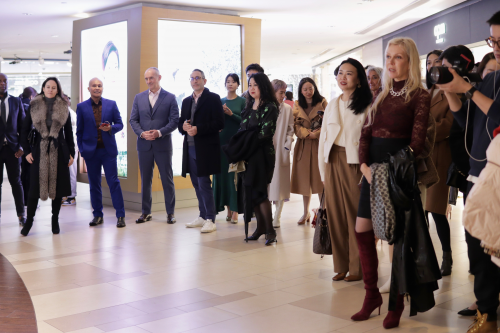 When it comes to the characteristics of the brand, Jenny uses three CS to explain the characteristics and advantages of JY shoes.
The first is color. JY has more than 100 colors, including Tiffany blue, ocean blue and sapphire blue
The second is classic, classic. According to the principle of ergonomics design last, versatile style, elegant style, easy to deal with all occasions.
The third is comfort, comfort. It's made by hand. It can be made from Size 34 to 42. It's imported from Italy. It's made of genuine leather. It's breathable and skin friendly. It's light and comfortable after standing for a long time.
Afterwards, the ribbon cutting ceremony was held.
Jenny invited eight friends and food and beverage sponsors to take part in the ribbon cutting, announcing the official opening of jennyang's first flash shop.
The joint venture between jennyang and K11 fully reflects the quality style of JY. For JY, it's an attempt to enter high-end shopping malls and create a better future with a good start.
JY goddess, VIP customers and media friends are invited to witness this special moment. Guests from all over the world, Britain, the United States, France, Germany, Italy, Sweden, Romania Different nationalities, different skin colors, out of the heartfelt love of jennyang, gathered together.
The scene was in a harmonious atmosphere. Everyone raised their glasses to celebrate the opening of jennyang brand flash shop and wish everything goes well in the new year.
(address: Shop 208, second floor, K11 shopping Art Center, Shanghai)
In March, the grass grows and the warbler flies. Jennyang K11 flash shop can be used as a new clock in point. As we all know, K11 is the fashion vane of Shanghai, with unique geographical conditions. Chanel, Maxmara, Cartier, Segio Rossi on the first floor, Jennyang on the right side of the elevator on the second floor, adjacent to Jimmy Choo. Welcome to Shanghai and JY fans in Shanghai.
Besides Changle Road and K11 in Shanghai, there are four seasons hotel in Beijing, langting hotel in Hefei and W hotel in Suzhou. You can also find Jennyang.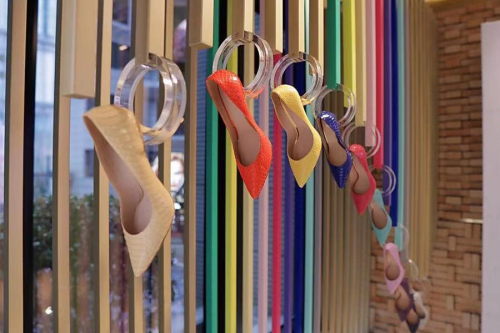 If you do not wake up, you may want to stay at home, you can also focus on the JENNYANG official account, and click the small program to place a key. In the future, JY will expand other categories, such as accessories, women's bags, rich goddess's wardrobe
Just as jennyang advocated « colour your world with comfort ».
There is always a touch of color, decorate your world.